Information and Communication Technologies (ICTs) are quickly becoming a necessity. The health, banking, education and even the agricultural sectors have resorted to the use of ICTs for faster and convenient service delivery. As such, governments the world over are taking different measures to ensure that their citizens are up to date with the latest developments in technology.
Latest statistics from Postal Telecommunications Regulatory Authority of Zimbabwe (POTRAZ) reveal that Zimbabwe's internet subscriptions stand at 5.2 million. Of these, 5.16 million access internet via mobile phones while the remainder do so via fixed broadband. The country's total broadband subscriptions rose by 6.45 percentage points in 2013, going up from a 33.4% increase in December 2012 to an estimated 39.8%.
Fixed broadband subscribers constitute fewer users because of the nature of the connection; fixed broadband is more expensive as it has fixed monthly payments. However, those on fixed broadband are more likely to have greater access to the internet than other users as investment in such technology necessitates maximisation of expenditure. At the same time, most subscribers access the internet via mobile phones because it is cheaper and convenient; one can always be online via a mobile phone as long as they have data bundles and a good network connection.
Many, however, do not have 24 hr access to the internet due to largely interacting with the online realm through internet cafes and other limited outlets. In fact, less than half the country's population has access to the internet, creating a vast digital divide.
Policy and the Tech Divide
Zimbabwe has joined the international community in including ICTs in national development strategies with the nation being part of the two UN World Summits on the Information Society (WSIS) held in 2003 and 2005 respectively.
During the first phase of WSIS, foundations were laid by nations in reaching an agreement on a Declaration of Principles and a Plan of Action for ICT usage and uptake. The second phase, held in Tunis in 2005, is where the Tunis Commitment and the Tunis Agenda for the Information Society were adopted. The latter includes chapters on financing mechanisms, internet governance, implementation and follow-up.
The Digital Solidarity Fund (DSF) is another major outcome of the WSIS talks. This funding mechanism is intended to cultivate south-south partnerships and target, among others, community projects run by women. The Fund has, however, faced challenges. For instance, there have not been adequate contributions made to the Fund to finance its intended objectives, from which Zimbabwe could have greatly benefited.
Local policy directives have also not fared so well.
Zimbabwe's national ICT policy framework from 2012 has, as yet, to be operationalised with parliament and public service departments still mooting digitalisation of systems.
Through the National Gender Policy, the government pledges its commitment to promote equal access to, and control and ownership of, media and ICTs by men and women to enhance development across all sectors. While the policy acknowledges that there is need to bring women up to the same level as men in terms of access to ICTs, it does not give current statistics on use of internet by men or women in Zimbabwe; information which is crucial in addressing the gendered digital divide. Zimbabwe therefore has to rely on external statistics which may not be very accurate in defining our problem; for example, International Telecommunication Union (ITU) http://www.itu.int/ states that in developing countries, 16% fewer women use the internet than men, thus the urgent need to increase women's uptake of ICTs.
Techwomen and young women's digital innovation
In an effort to get themselves and other women involved into the use and making of ICTs, Aretha Mare and Rumbidzai Mlambo co-founded Techwomen Zimbabwe.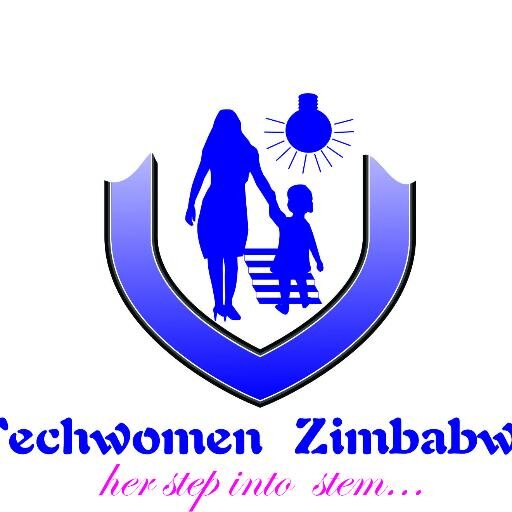 Techwomen Zimbabwe is an organisation that engages young women through different projects on ICTs. Currently, Techwomen is working with a number of girls and young women who have managed to create mobile phone-based applications of their own.
With various applications that help address the social and economic issues that are pertinent to women and girls' lives, Techwomen is paving the way for women to participate in the digital era.
An application called 'Women's Voices' would be convenient for most as it provides a borehole mapping service, information that is necessary to know in a country facing such critical water shortages. Using this application one can locate the nearest borehole from where one is and not waste time looking for directions, thus giving more time to other important tasks.
The other important feature is that it also provides contact details for emergency services like the police, ambulance, fire brigade to mention just a few. Women can also use 'Women's Voices' to engage in group discussions about issues of importance to them.
'Study Buddies' is an application that gives secondary school students from Form 2 to Advanced level an opportunity to study outside their classrooms. All subjects from the secondary school curriculum are covered, and students are able to interact with tutors on a one-on-one basis.
Chefs will greatly welcome 'Order Now', an application that allows anybody to order food from all service providers subscribing to the application. It allows catering service providers to cut costs on rentals as they will be using the application to advertise and interact with their customers.
However these applications are still working prototypes and have not been released to the general public. Furthermore, there are several challenges that are stalling progress on the continued development of these and other mobile applications, by women.
Challenges
Mare describes several challenges – chief among them inadequate financial and human resources. She reveals that she and her co-founder had rely on their own finances to start the project.
"We funded our own dream, and later on received a seed grant from our mother body Tech Women International after participating in the Technovation Challenge early this year," she says.
Since the applications are still working prototypes, there is need for more finances and technical knowledge so that they can be commercialised.
As the girls are not greatly experienced in software development, their products are not as attractive as commercial applications might be; something that will potentially affect uptake of these apps. Mobyaffiliates recently established a directory of mobile app stores. and found a staggering 70 app stores. Apple App Store and Google Play Store are the biggest app stores with over 1 million applications each. While analysts say it is difficult to give the exact number of mobile applications in use, a deduction from these statistics shows that our local applications are competing with over 2 million others.
An article in an online publication Smashing Magazine states that the first and obvious step to a successful application is to create a unique product, by being the first to launch it. With the number of applications already in existence, creating a unique application may prove a huge challenge for Zimbabwe. It therefore becomes important to ensure that new local applications have features that allow them to survive market competition. These include attractiveness, functionality, adaptability to various mobile phone operating systems and local utility.
For instance, while 'Study Buddies' provides educational material for the secondary education syllabus, this application is not the first of its kind. In fact, Google's search engine is increasingly becoming one of the most popular online tutors. There is therefore need to maximize on unique features, so that the application can survive competition.
While some feature phones have enough functionality to run basic apps, most advanced mobile applications are limited to smart phones. The cheapest feature phone currently costs about $40 while the cheapest Android-based phone goes for about $70. The question then becomes how many young women can afford such phones?
Mare highlights that the high cost of smart phones has also limited the time girls have to work on their applications. "The girls do not own smart phones," she notes. "During the twelve week programme the girls come once or twice a week for four hours total or more to Hypercube Hub and Aripo Conference Room where they have free access to computers and the internet."
Solutions?
In a presentation, Dr Dhlodhlo from the National University of Science and Technology (NUST) cites lack of relevance of ICTs to women's lives as one of the major barriers to the uptake of technology.
"How can ICTs improve marketing skills and market access to small and medium enterprises which are populated by women?" she asks. "How can ICTs be used for networking in the fight against gender-related violence?"
To create a vibrant knowledge society, information needs to be accessed by everyone. Thus, there is need to create applications in the vernacular to involve non-English speaking women.
There is also need to pay attention to leading applications so that Zimbabweans create competitive products.
It is also crucial that we come up with gender disaggregated data to inform policy makers and service providers on the use and access of ICTs by men and women. This will help in allocating resources and to catering to various audience needs.
With the absence of such crucial information, it remains unclear how we hope to, bridge the gaping divides in Zimbabwe's internet terrain.
This years International Women's Day theme is 'Make It Happen' and we should be asking ourselves how are going to make it happen for Zimbabwe's women in the online realm.
Related posts